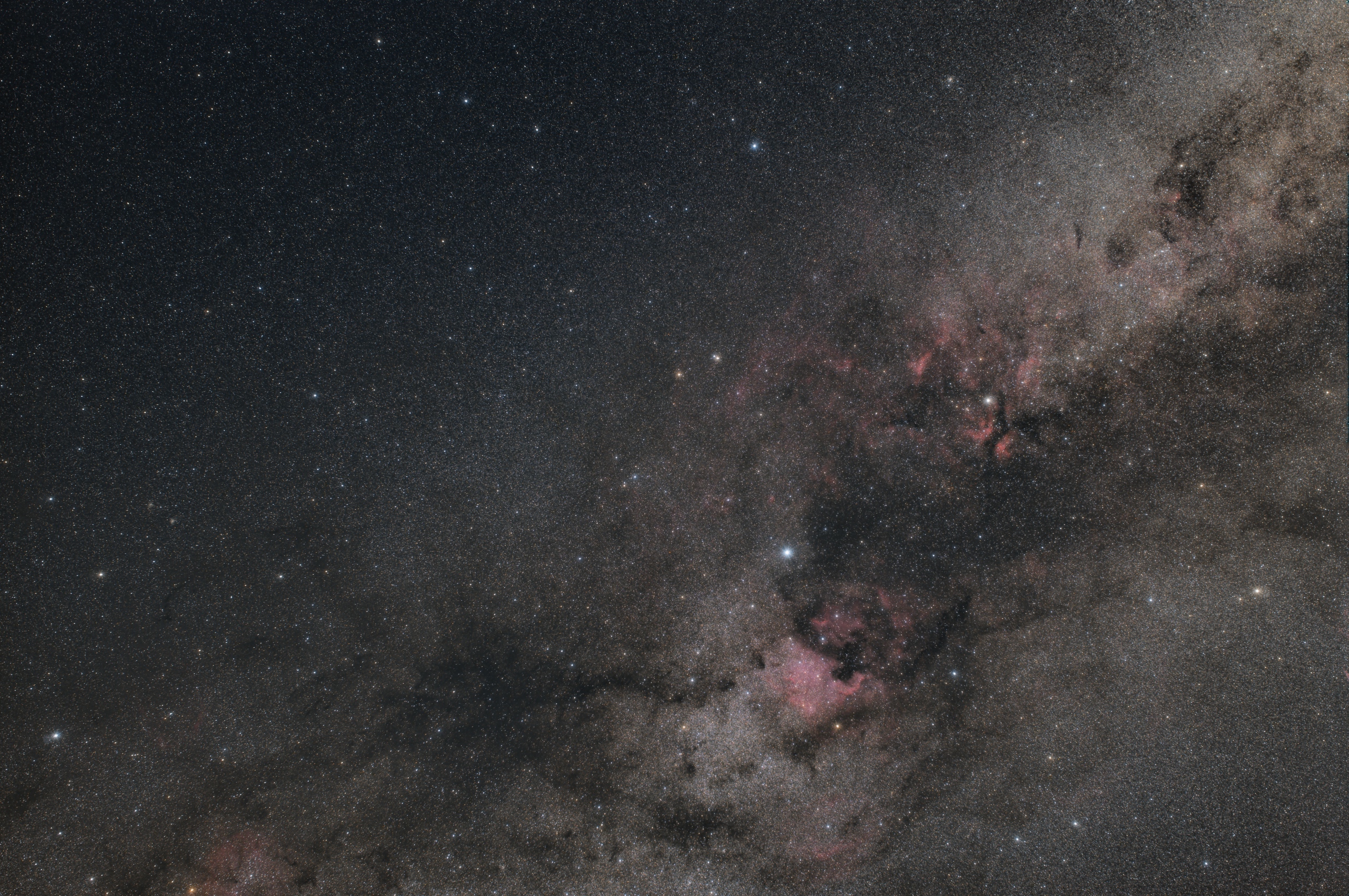 Northern Summer Milky Way.
Follow Me on Instagram | Astrobin
Equipment:
Celestron CGEM Mount

Voigtlander Ultron 40mm f2 at f5.6

asi071mc PRO at 0 C

Astronomiks L3 UV/IR filter

Manually Focused in NINA with the assistance of the Aberration Inspector and looping exposures.
Acquisition:
95x6m Exposures
Total time: 09:42
Nights Imaged: 4
Started: 2022-10-04
Latest: 2022-10-22
| Date | L3 |
| --- | --- |
| 2022-10-04 | 1hr 42m |
| 2022-10-05 | 2hr 30m |
| 2022-10-21 | 3hr 36m |
| 2022-10-22 | 1hr 54m |
| Totals | 9:42 |
Session sequenced using Nighttime Imaging in Astronomy: N.I.N.A
PreProcessing Steps:
Blink and toss subs with bad clouds or high LP gradients (leaving subs with satellites and plane trails in)

Calibrate all subs using Flats from corresponding nights, Dark Flats and Darks

Cosmetic Correction to target remaining hotpixels

Subframe Selector using PSFSignalWeight weighting, rejecting subs with high trailing

Debayer (VNG)

Star Alignment

Local Normalization (using WBPP's interactive method to build a reference using the best 16 exposures

Image Integration using ESD and Large Scale Pixel Rejection High

Drizzle Integration 2x Drop Shrink 0.9 Variable Kernal 1.5 and CFA Drizzle
Processing Steps:
Photometric Color Calibration (PCC) using Average Spiral Galaxy as white reference

No Background modeling (wasn't necessary)

TGV Denoise linear using Jon Rista's technique (Low contrast mask, local support and careful on the edge protection… didn't need much)

Histogram Transformation to stretch

Reduced the astigmatism in the stars by subtracting L from an expanded starmask (to model the contours) and morphological minimum/erosion

GHS Color stretch and Saturation Stretch to bring out the colors

Dark Structure Enhance to add contrast to the dark molecular clouds

Light SCNR Green to reduce the slight green tint.

An ICC Profile was applied to enable Black Point Compensation
---
Constructive criticism is welcome. Let me know what you think! How can I improve?
---